Someone by the name "Oldtyme Hockey" posted this on the London Free Press' story about London's $200M Downtown Master Plan unveiling last night. I tried to reply to it because it goes to something I've actually given a lot of thought to, but the comment is being held in moderation (probably due to length, like another one I posted earlier today). I wanted to post it here to make sure it gets out.
There is a transportation corridor available from Highbury downtown along the railroad tracks – under the Quebec Street and Adelaide street bridges; along the tracks. A ring road could travel along Veterans Memorial, Sunningdale; west of Riverbend and cut across Col Talbot to Exeter Road. its workable.
That would make a ring road look like this (click for full version):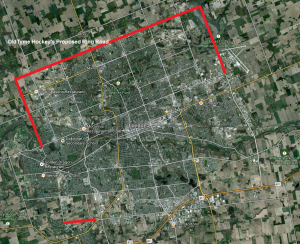 My response:
You've had almost the same thoughts I had when I thought about where to put a ring road. And then the problems started…

1) VMP can't be extended directly north without running through Forest City National Golf Club, Fanshawe Golf & Country Club, or Fanshawe Pioneer Village. So that won't happen, and then you're talking about using Clarke Rd instead.

2) Sunningdale is already too built up, and if you think the rich folk at Sunningdale Golf & Country Club will allow the city to take away more land than they are already to expand Sunningdale Rd, or that putting a ring road in front of a high school or through the middle of brand new subdivisions is going to happen, I think you've got another thing coming.

3) Almost everything west of Hyde Park Rd, that far north, doesn't belong to the City. It belongs to Middlesex Centre. I think you meant Riverside, not Riverbend, in that case you're talking about putting a road through the middle of London Hunt & Country Club, another high school, and an older residential area.

It's not workable with the layout you've proposed, and loses its benefits if you push it our any further, despite what Coun. Henderson told me.
I guess the message is, even if a ring road was a good idea (I'm not convinced it is), there's no easy answer when it comes to where to place it.