Good morning! It's currently 6:50am as I write this. We have a split Council meeting today — the beginning of our new strategic plan initiative at 09:30, and then other items and public meetings at 18:30. This time I will get this post up and the automated email out before the meeting, and I will work to get back on track and get these up two days prior to future meetings.
There isn't a presentation to share with you from the firm that is working on our strategic plan for Middlesex Centre, but they will be doing public consultations this year, likely in virtual formats until something in-person is more feasible.
Click here to access the agenda for the evening portion of the meeting.
Consent Agenda
While revenue is down almost universally across the spreadsheet, so are expenses due to an almost complete shutdown of public services for several months. It will be interesting to see which areas pick up and which continue to slump over the next few months and into 2021 depending on new orders and recommendations received from the provincial and federal governments.
The next report outlines all the areas where Middlesex Centre attempted to provide some financial relief to residents, the cost containing measures taken, the loss of revenue, and what few measures taken by upper tiers of government to assist municipalities to date (almost none).

Today, an additional $133,453 has been spent directly related to COVID-19 (mostly payroll related).
Staff are estimating a loss of revenue in excess of $1M for 2020, mainly derived from Community Services as indicated above. We're already at over $300,000 lost in Community Services, mostly in ice rentals.
Staff presented a cost containment plan on May 13, 2020 that estimated total cost containment savings of $907,385 made up of savings in staffing costs due to salary gapping (not replacing people right away or delaying hiring of new positions), less overtime, declared emergency leave of part-time and contract employees, lower staff ancillary costs, decrease in professional development, reduction in program supplies and materials, reduction in general maintenance and service costs and deferral of 2020 initiatives and programs.
On the bright side, we have $2,909,491.97 in the tax rate stabilization reserve fund and access to a $1M line of credit. Whether we'll need it, or whether it's enough to deal with the pandemic over the long run, remains to be seen.
Staff Reports
There was a lot of debate about the Pfister Drain report at the last Council meeting. Council wanted to send it back to the Engineer to continue looking at options in collaboration with the property owners, and this report outlines the reasons and recommendation for doing so.
Public Meetings
Of the items up for review this evening, these are of most importance to Ward 4:
Dausett Drive — converting commercial land to residential

Orange Rock Developments is proposing converting the eastern portion of their commercial lands to residential.
They want to install 54 stacked townhouse units here.
Staff have already spoken to some people in the neighbourhood, and I have received some comments as well.
Different departments have a host of issues that need to be addressed.
I don't have a problem converting some of the land to residential, and this has been on the radar for some time, but I definitely have concerns about an additional 54 units and the associated traffic being placed 100% on Dausett Drive.
Tonight's meeting is purely to hear from the public, and the staff recommendation is to simply receive the report — not to approve or deny the application.
Here are the attachments: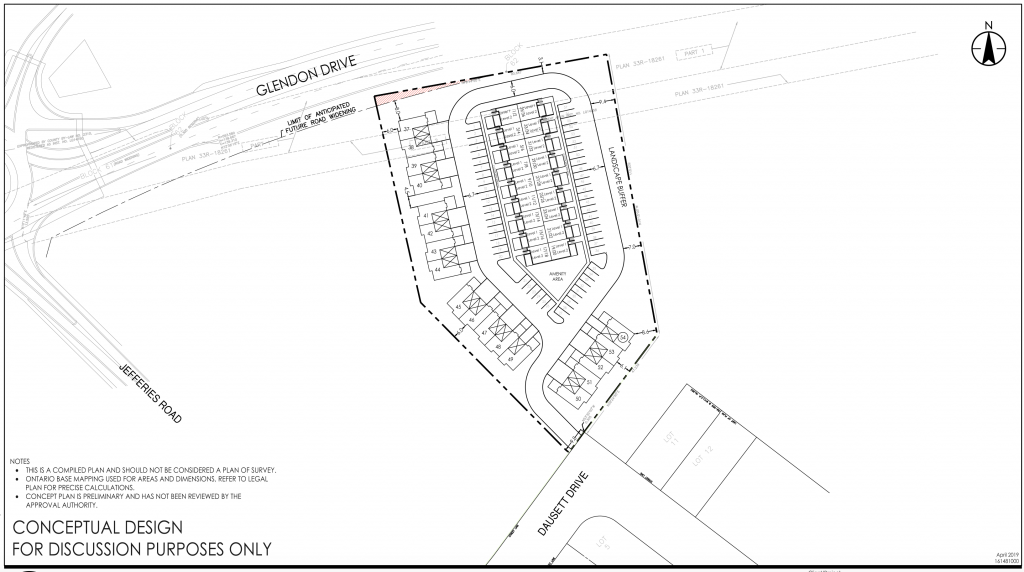 That's it for Ward 4. All the other meetings are for items in Ward 1 (Ilderton) and elsewhere.
If you have any comments about the proposed development on Dausett Drive please send them to planning@middlesexcentre.on.ca, wright@middlesexcentre.on.ca and silva@middlesexcentre.on.ca referencing the application number (PLA-15-2020 OPA 50 ZBA-09-2020). Thanks!