Hi there! We have one public meeting of importance to Ward 4 next week, so I am highlighting it in a separate post for you to review.
Renwick Estates – 9904 Oxbow Drive, Komoka
As many of you are already aware, this property at the northwest corner of Oxbow Drive and Komoka Road was severed a year or two ago in anticipation of future development. There was an open house held at the Komoka Community Centre earlier this year where Brantam Developments showed off their initial proposals. After receiving feedback from residents at the time, Brantam has now filed a complete application, draft plan of subdivision, zoning by-law amendment, and relevant maps.
As you will see, Brantam Developments is hoping to build a mix of single detached, townhouses, and a small apartment building on the southwest corner of the property. Here is a visualization for you using the zoning map and a satellite view to give you a sense of what would go where.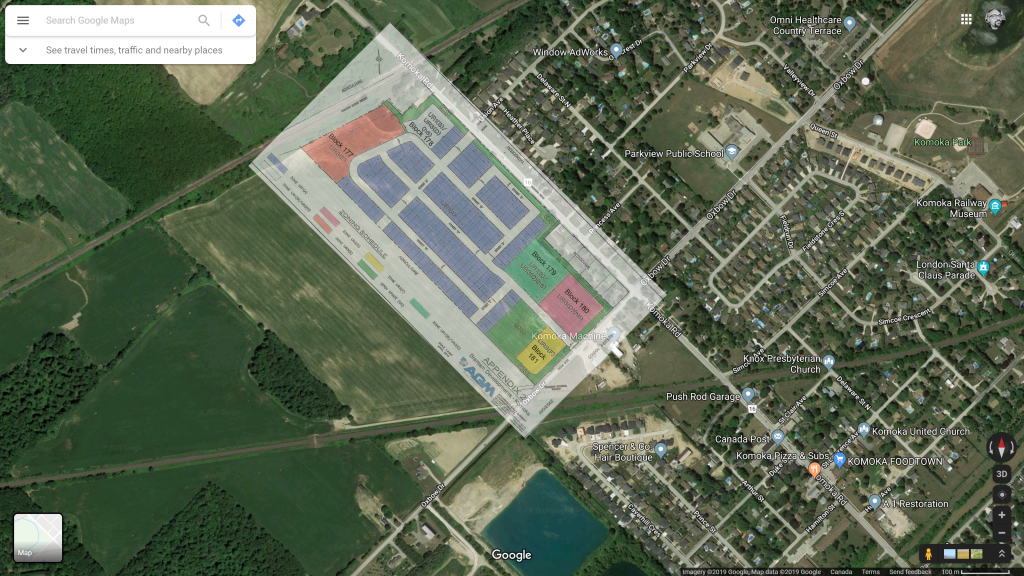 All of the UR3 blocks are townhouses, with the exception of UR3(F) which is the proposed apartment building. If you attended the open house in March, you will see that none of the proposed zoning has changed. Below are some photos from the open house.
If you would like to speak at the public meeting, the public meeting portion of the meeting agenda will start at 7pm on Wednesday. This is a good chance to speak about zoning, traffic, storm water management, and all other aspects related to the development or impact on neighbouring properties. Now, that said, I would add that saying how this impacts your property value is a moot point; you should stick to zoning, planning, water/stormwater, etc. that Council has purview over.
I am still reviewing all the documents and will address my comments and questions appropriately based on what I read, the history of the area, the existing stormwater management issues to the east along Union Ave and Komoka Road, and so on.
If you have any questions for me about the meeting and documents ahead of the meeting, let me know.