Welcome to the latest Middlesex Centre Council Meeting preview. This meeting has been moved to 9:30am so that all of Council can be there as some Councillors will be heading to a conference on Wednesday evening.
If you would like to read the full agenda, you can find it here.
Delegations & Presentations
Enbridge Gas will present the Project Zero Program.
Mike DeVos, Engineer from Spriet Associates Inc., will present the report for the Government Drain No. 1 Extension 2019 (Delaware area)
Consent Agenda
Item 7.1 – In reviewing whether or not to regulate cats here in Middlesex Centre, like how we regulate dogs now, staff realized that we don't have any by-laws that allow for the removing, taking in, euthanizing or even adoption of cats, that lead to staff asking Animal Care Control Lobo to stop accepting them for the time being. That, if you're a member of the Kilworth Neighbours group, lead to ACC Lobo's public post and subsequent discussion about how we got to this point.

I have sent multiple comments and questions to staff about this issue this morning. I cannot personally allow this new status quo of doing nothing – and waiting to see how another municipality's potential by-law affects their situation (which they may not choose to adopt) – to persist while homeowners are losing their cats, stray cats are getting injured and potentially unable to be returned to their home for a variety of reasons, cats are out there decimating the bird population, etc.
This is all exacerbated by the fact that cats, for some reason, have been historically treated differently than dogs despite the fact that they use up far more of the animal control budget than dogs do.
And I say all this as a former cat and dog owner, but someone who does not have either kind of pet now.

Item 7.2 – Staff are recommending continuing to use Scrimgeour & Associates as our external auditor. Given the experience we've had with Scrimgeour, their knowledge and comfort with our books, and cost difference between neighbouring municipalities and what we're paying, I don't see any reason not to.
Item 7.3 – Staff are looking to make some small tweaks to how some employees can bank overtime and when it can be used. Again, no issues here in my opinion.
Item 7.4 – A really good look at how our capital projects have gone for 2019 – the budget, the amount spent (almost 100% under budget), and which have been deferred. I hope there are some opportunities here to keep property taxes low for 2020, or possibly move some funds over to other areas where needed.
Item 7.5 – A few issues identified in both revenue (lower than forecasted in several areas) and expenses (higher than forecasted or anticipated in several areas). The impacts of all this will be made clearer when we start looking at the 2020 budget.
Item 7.6 – Staff have reviewed the fees and charges by-law and are making several recommendations worth noting:

A new Dangerous Dog Registration of $75 per dog
A new Fail to notify of deceased or relocated of $25
A new charge to mail dog tags set at $10
Increasing the replacement dog tag fee from $5 to $10
Applications for new kennels increasing from $300 to $500
A new fee to renew a kennel license of $350
A new fee to license Refreshment Vehicles set at $1,500
Multiple fees related to dog registration and kennel licenses removed
Some small increases to facility rental fees (mostly $5 to $15)
Planning and development related fees are all set to increase significantly, so you should review those on pg. 7 if you're interested

Item 7.7 – Ontario Municipal Partnership Fund. Once again we're on pins and needles not knowing the future of this program, however for now Middlesex Centre's 2020 OMPF grant will be $1,180,800. The amount for 2019 was $1,168,900 and therefore the funding has increased $11,900 over prior year (1%).
Staff Reports
Item 8.3 – Now that the site works at 10148 Glendon Dr (Foodland plaza) are complete, staff are recommending that the developer's security be released.
Item 8.4 – Water, wastewater, and stormwater fees. I won't dance around the issue — BMA consulting is recommending Middlesex Centre raise:

the minimum water charge from $22.76 to $24.01 per month (an increase of $1.25)
the per m3 rate for water from $2.84 to $3 (an increase of $0.16)
and increasing the fixed stormwater charge from $14.88 per month $15.37, an increase of $0.49
Are these increases large? No. Are they desired? Hard no.

These adjustments are recommended based on current customers and meter sizes, the 3-year consumption trend, the 2020 draft operating budget, and the 5-year capital budget and asset management plan.
Because on the current amount of capital spending happening, the water reserve fund is projected to be at -$2,511,131 (yes, that's negative) by the end of 2020.
The Long Range Financial Plan previously estimated the need to raise rates at 3.5% for water, and 4% for wastewater, per year over a four year period. Clearly staff and Council found ways to prevent that from happening, and were able to freeze rates for the past few years instead.
I don't think this means we must raise rates, but some creative accounting may be required, if it's legally possible. I'll be speaking with staff about some options prior to the meeting.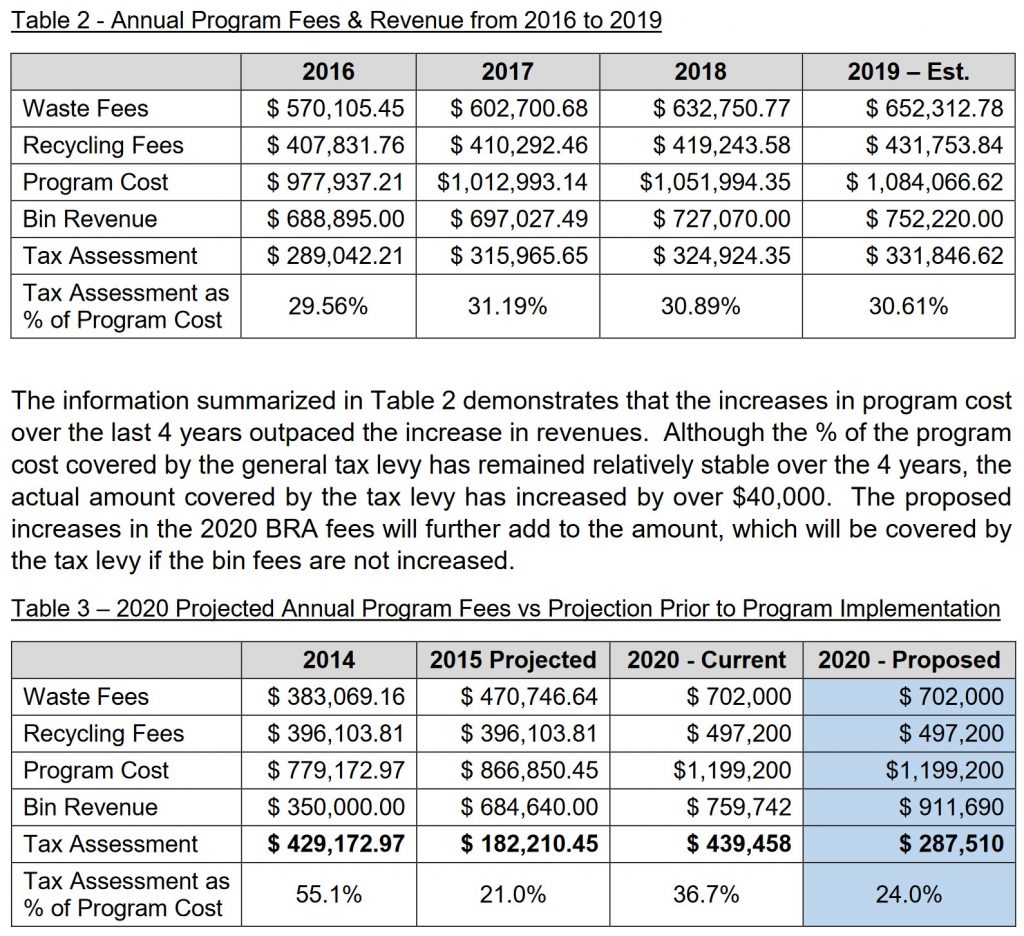 Item 8.5 – Wheelie Bin cost. Staff are recommending significant increases to the cost of wheelie bins. In a nutshell, the reason for this is rising costs for recycling programs (which I have written about before), and and also rising costs for handling waste. Instead of putting more of the cost of the program on the tax base, staff are recommending increasing the fees for the wheelie bins, and therefore the program itself, instead.

I will say, as someone who loves the wheelie bins, I think it's important that we continue to work on how much stuff we throw in the trash. Our family of five has been making do with the smallest garbage bin. I don't think that's sustainable much longer as our children age but by buying more recyclable products, composting, and generally trying not to buy things that can only be thrown in the trash, the smallest wheelie bin has been enough to cover our needs more often than not.

Staff are recommending hiring another Lead Hand Operator, which would replace two contract positions (1 summer, 1 winter) that we typically hire for. All the rationale for this are laid out in the report.
And then we get our first look at the 2020 capital budget. The real meat and potatoes start on page 21 of 108. I will do a separate post about the capital budget between now and the next Council meeting on Nov 27.
And that's it for this week's meeting! If you have thoughts, comments, concerns or questions, please share them with me as soon as you can.