Last night about 30 members of the public and press arrived at the Coldstream Community Centre for the public participation meeting (PPM) about Kilworth's new subdivision. This new subdivision is going to be built on farm land that's owned by Don Black Investments, to the west of the existing settlement.
Tom Albrecht was at the meeting representing Don Black Investments (or "the ownership group," as Mr. Albrecht put it). Also attending was a group of four gentlemen from Stantec who were there to talk about the engineering, planning, and traffic aspects of the proposed site plan and rezoning.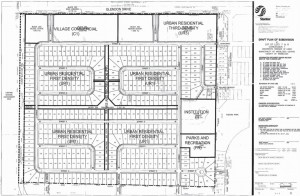 The Stantec presentation is summed up as so:
Stantec believes the proposal matches provincial policies, the municipal master plan, and secondary Komoka-Kilworth plan
The proposed site plan has 391 single detached lots, two blocks for medium residential, and two blocks for village commercial
Minimum lot area is 577 m2 (or 5,200 ft2)
The Village Commercial portion exists to align with the secondary plan, as requested by council
The Master Plan calls for the possibility of a school in the area in the future, so the land has been set aside to allow for that
At this time neither school board has indicated they're interested in purchasing that land
The walkways proposed, running right through the middle of the subdivision are about 14m wide (WOW!!), providing a massive trail for the municipality to do a myriad of things
Desired phases start from NW to SW, then SE to NE.
There is a small hump near the middle of subdivision that would allow for grading and some different house designs in that area, including walkouts and such
A new sewage pumping station would be built to the south on an adjoining piece of land
Stantec did "quick traffic review," which reveals that most traffic would be coming from either Glendon Dr, Doan Dr, or Willard Cr
"Community desires" at previous consultations have indicated they would prefer less traffic flowing from the existing settlement, therefore Stantec cut off Daventry Way even though they can "think of much better things to do there instead of a cul-de-sac"
At this point municipal staff began reading written submissions into the record. Several issues were raised through the written submissions regarding the land to the south, especially by the current owners of that land. Unfortunately the staffer was speaking fairly quickly as the full written submissions will be included in the minutes — I'll link to those once they're up.
One person's submission indicated they have no problem with cul-de-sac cutting off Daventry Way as long as services can still be extended through that area.
This is when things were opened up to the rest of the public and Council for questions.
Susan, who was sitting beside me, wanted to know how the new subdivision would affect the existing sewage treatment plant. Stantec's response was that a new sewage treatment plant and stormwater pond would be built to the south of the subdivision, and therefore the new subdivision would have no impact at all on the existing facilities.
I made a comment regarding the cul-de-sac that would cut off Daventry Way, and thanking Stantec for mentioning it earlier. I stated that that road should be opened up as the portion of Kilworth I live in is already heavily segmented from the Willard Cr area, and further segmenting it is completely at odds with current urban planning/design trends promoting walkability and multi-modal transportation. The current site plan diverts traffic through Willard Cr and Doan Dr, while the odds of opening up Daventry Way greatly increasing traffic through the current "core" of Kilworth seems highly unlikely.
The owner of Garden Patch, a garden centre on Glendon Dr, wanted to find out how the new trails around the Wellness Centre would be connected to the new subdivision, especially given the amount of traffic on Glendon Dr. The response from Council was that we don't know yet, but that Council is currently working with the County on that.
A woman wanted to know what sorts of traffic measures would be taken to ensure traffic got on/off Glendon Dr easily. A Stantec staff member said that initially they see auxiliary turning lanes being put in, and that down the line there will probably be a need for at least one set of lights in the area.
Frank Berze, Councillor for Ward 5 of Middlesex Centre, wanted to know more about the possibility of low-rise apartments on the northeast corner of the property. The response from Stantec was that the zoning change for that corner would allow for buildings up to 20m tall, meaning a building of up to 5 or 6 floors. The same zoning change would also allow for attached townhomes, condominiums, etc. much like those that currently exist on Enterprise Dr.
Ultimately market demand will likely dictate what gets built there, of course, assuming the zoning change is allowed.
A Councillor and member of the public wanted to know what might go up in the Village Commmercial zone. The answer was that Stantec had no idea, but that the zoning bylaw allows for just about any kind of business you can think of — restaurant, drive thru, club, stores, ground floor commercial with up to two floors of residential on top, gas bar, offices, etc.
This is when things got testy.
A gentleman that lives on Pheasant Trail objects to the idea of apartments being located in Kilworth because "they'll eventually look terrible after a few years." He said that his taxes have gone up 22% purely to pay for servicing new land, which Mayor Edmondson indicated is not true.
And it isn't true. Development charges pay for servicing new land.
Anyway, this gentleman wanted to know what kind of assurances we would have that any apartment building that goes up won't look horrible after a few years. After going on a small tirade at a Stantec staffer for "pursing his lips," and then on about water/sewer charges and some other things, Mayor Edmonson got things back in check and told the man he would be happy to speak after the PPM.
Someone asked when construction will start. Mr. Albrecht said that everything still has to be approved, that Don Black Investments will have to address the concerns of various agencies, etc. So construction won't start for at least a few years, maybe longer.
I had the last comment of the night after blanking earlier. 🙂 I raised an issue about the proposed construction phases, stating that I think existing citizens would like to see any disruption to the existing settlement happen earlier – get it over and done with on the east end, and then they can move west after that. The Mayor and several Councillors nodded their heads in agreement, with the Mayor saying, "I hear where you're coming from."
After that, there were no more questions, and the meeting was adjourned!
If you have any questions for me, please feel free to leave a comment below. The bottom line is that this new subdivision will go through and be built at some point. Whether the site plan stays as is or not, and when construction will start, is all still up in the air at some point. The family that owns the plot of land to the south has some big issues that need to be addressed, so it could still be, for all we know, another five years (or more!) before this gets moving.