There are several, I assure you, under developed commercial developments well within London's urban growth boundary. And after this and this, and even people asking where they are on Twitter this morning, I thought it prudent to identify them. You can click on the images below for bigger versions.
Spot #1 – Crossroads Centre at Wellington Rd S and Exeter Rd. No, it may not be the greatest location on Earth, but right now it's just an ugly, highly under utilized land mass taking up precious space at a very busy intersection.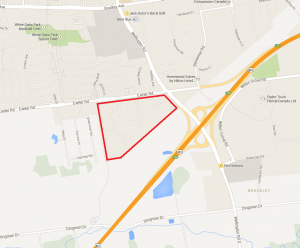 Spot #2: Corner of Deveron Cres and Commissioners Rd E. There was a Zellers there until recently, and a Tim Hortons, Food Basics (I think!), and Dollarama. The parking lot is half empty though and has plenty of space to be used by restaurants, smaller stores, health services, etc.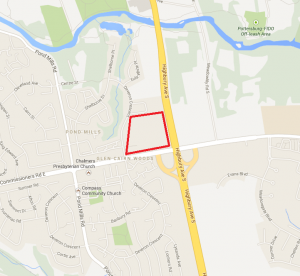 Spot #3: Notre Dame Centre at Viscount Rd and Notre Dame Rd. It's already there, has plenty of space, and is under capacity last time I drove by. It's prime to become a hub for this residential community if done right.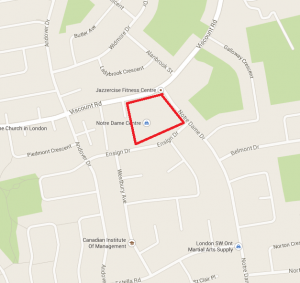 Spots #4 and #5: The corner of Wonderland Rd N and Oxford St W. London Mall is, well, an eyesore. It needs a massive overhaul and has plenty of empty parking spaces that are almost never used. And on the north side of Oxford St W, an empty field where corn used to grow. I think the Transporation Master Plan is attempting to designate this area for increased population density, so it may not fall in the plan, but the point is these spots are empty now, prime for development.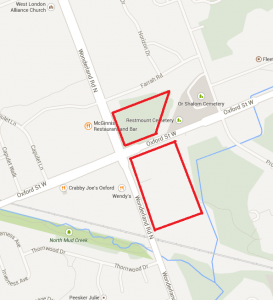 So again, I fail to see why an environmentally significant woodlot must be torn down for "progress" when, even despite the areas within the city that could use redevelopment, there are several pieces of land around PenEquity's proposal without environmentally significant woodlots, like the below.